UKV Snack Vending 36
Tango Snack Vending Machine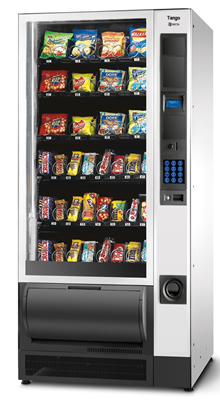 6 Trays Snacks and Confectionery
36 Selections
466 Products
UKV Snack Vending 40
Tango Snack Vending & Drinks Machine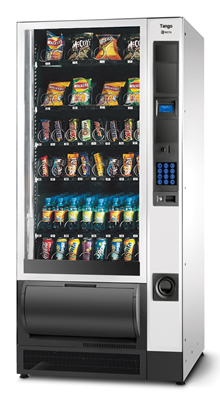 4 Trays Snacks
1 Tray Bottles
1 Tray Cans
40 Selections / 304 products for Snacks
8 Selections / 48 products for Bottles / Cans
UKV Snack Vending Machines
UK Vending provides wonderfully simple to operate Snack vending machines that provide a quick and easy way to sell the best selling snacks, crisps and sweets. Moreover, these Snack vending machines can be tailored for your own set of requirements. We can arrange for them to be coin or token operated and each comes with the very latest digital technology and easy to use instructions.
Each machine fits seamlessly into virtually any office or work environment and are extremely durable.
Even when the product has been delivered it is easy to collect from the drop down tray as with the patented ergonomic delivery area that opens outwards making it simple to collect and enjoy delicious and fresh snacks, crisps and sweets from an UKVending snack machine.
UKVending has two different machines within the Tango range that can be configured for your workplace; The UKVending Snack Vending 36 and 40. The 36 is the slightly smaller of the pair and is ideal for snacks and has a capacity of 36 different selections, whilst the 40 is slightly larger and can also vend drinks cans. The range of products available to refill both machines is impressive with a total of 466 products available to order from UKVending.
Give us a call on 01634 304444 and see how one of our Snack Vending machines could make the difference in your workplace.
Supply only – and self filled by UKV customers
Specifications
Physical aspects: (H) 1830mm, (W) 890mm, (D) 860mm, Weight: 280kg
Large capacity glass fronted machine with flexible layout
Impressive capacity up to 40 selections, with the ability to offer a wide range of drinks, snacks and confectionary
Vend detection sensor in the delivery bin to ensure trouble free product dispense
Patented front to front ventilation allowing the machine to be located directly against a wall saving up to 10cm
Energy class rating of A+ in line with EVA EMP 3.0. protocol
Low consumption LED tube lighting
Possibility to install up to three payment systems
Capacitive keypad backlit by blue LED's